The Master Plumbers Network developed the FlatRateNOW online price book software for residential and emergency plumbing and electrical businesses. They now announce the apps new integration with ServiceM8.
The integration with ServiceM8 provides residential tradespeople the option to leverage FlatRateNOW's 'Paper Towel Close' sales tools and price book.
FlatRateNOW improves customer experience and drives sales. It comes with over 1,300 pre-built tasks, each with easy-to-understand descriptions and images. This helps tradespeople communicate to homeowners the services they are buying and value they are receiving
"Our integration with ServiceM8 will give our users the ability to deliver great customer experiences, and lower the stress of selling for tradespeople while reducing the administrative burden in the office", said Dave Tarrant, executive director and co-founder of the Master Plumbers Network.
Flat rate pricing is becoming necessary for tradespeople to grow and be consistently profitable in the domestic and emerging market. The efficiency of operation and the effectiveness of your sales effort are the difference between profit and loss. FlatRateNOW provides flat-rate pricing solutions with integrated sales tools that fit into your business processes and support your market segments
Customers today want immediate explanations of the services they are being offered and the value they will receive. Images and clear descriptions and side by side prices allow the customer to quickly compare different options. "Giving choices to customers and demonstrating the savings they are being offered makes the decision to buy easier", said Mr Tarrant.
"FlatRateNOW enables onsite tradespeople to quickly design and price a number of options and then show them to the customer on a single screen for easy comparison. Drill into these choices for detailed descriptions images". In this way, you can increase your efficiency and profitability and, most importantly, customer satisfaction. With FlatRateNOW the customer feels in control of their buying decisions.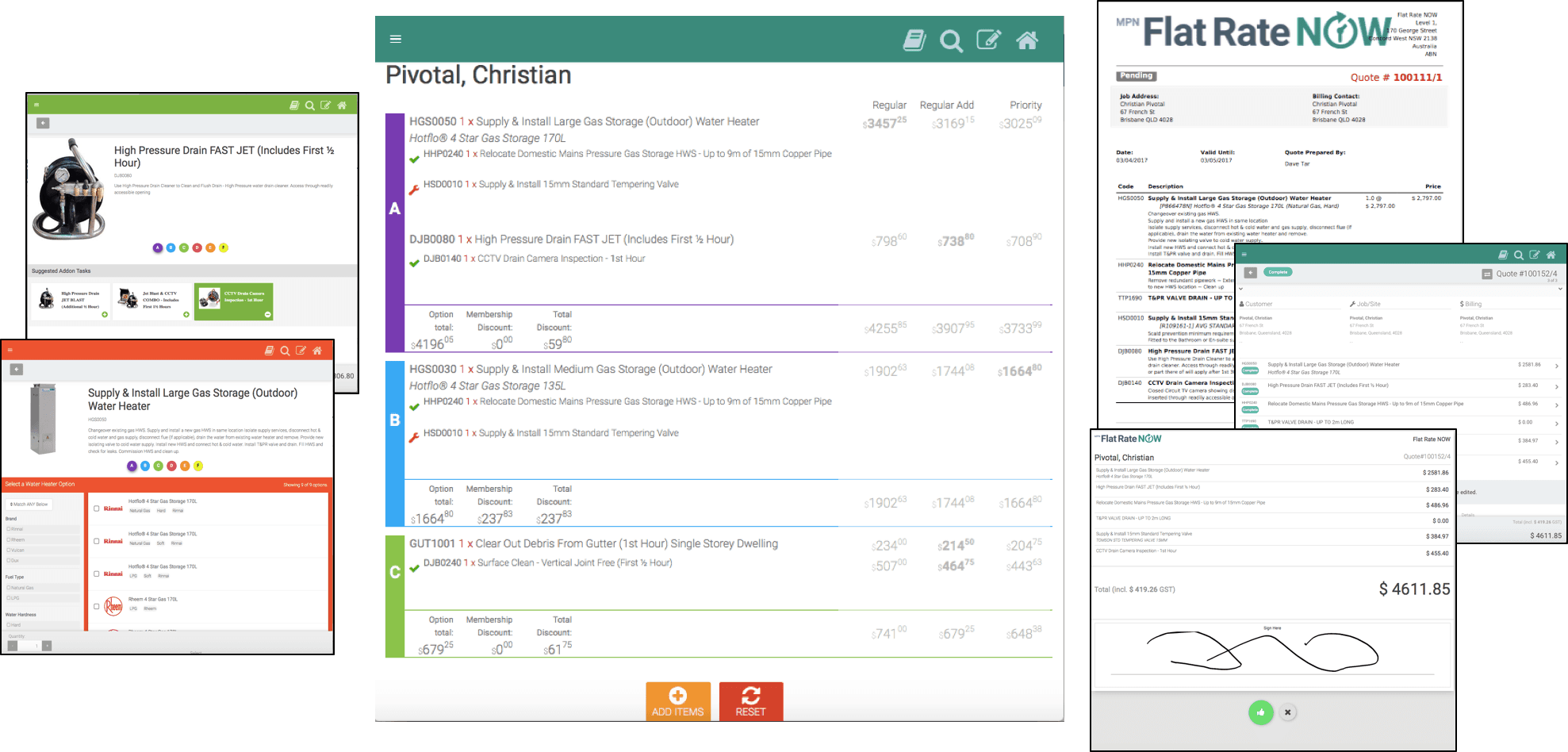 Register for your free 14 day trial of FlatRateNOW at www.flatratenow.net/pricing to see examples of our sales tools and price book in action:
FlatRateNOW's price book and integrated sales tools for ServiceM8 offer the following key features and enhancements:
Easy setup. Get your price book and sales tools up and running in a day
A complete pricing system with simple-to-understand descriptions, images, warranties, and add-on tasks for upsell opportunities.
An electronic scratch pad quickly build 'repair vs. replace' and 'good, better, best' options for your customers.
Pricing comparisons showing the savings available if they buy today.
Quick quote generation.
Work order creation in ServiceM8 for accepted quotes.
Tools to manage the price book and customise it to your markets, prices and processes.
Structured data on each customer and each deal for you to increase your market Intelligence.
To learn more about FlatRateNOW's integration with ServiceM8, visit flatratenow.net/integrations/servicem8.
About FlatRateNOW
Master Plumbers Network pioneered the first flat-rate pricing systems in Sydney. MPN FlatRateNOW takes these paper pricing books to the next level. Tradespeople can use their iPads to quickly price jobs and create quotes and work orders for their customers while on site.
This raises the average service ticket price and increases the number of sales. FlatRateNOW supports the bundling and upselling of tasks for tradespeople. Tradespeople can pick from hundreds of service, repair and equipment replacement tasks.
They can then apply one of up to 10 different pricing tiers that represent their market segments. Use FlatRateNOW's scratch pad, price book and pricing tiers to generate multiple quotes. Eliminate objections and lower sales resistance for service technicians.
Visit the Master Plumber Network's FlatRateNOW website for more information.
About ServiceM8
ServiceM8 is a hosted application that allows you to manage all facets of a field service delivery business. It will guide you from job quoting (or job estimates) right through to invoicing on completion. You will get real-time information on jobs that are currently active and what quotes have been issued to clients. You can also keep track of your staff with information about when they're at client sites and the location.
ServiceM8 is designed to be used by everyone in your business. From each field staff member to back-office staff and through all levels of management. It is simple and effective, and best of all, it's available anywhere, anytime.
Head over to the ServiceM8 website for more information.