We are excited to announce that we are now an approved integrator with one of the leading operations management solution for service, maintenance and project contractors - simPRO.
simPRO Quotes & Jobs will automatically sync with FlatRateNOW so your tradies can deliver a seamless visual sales experience to your clients.
In seconds technicians can build multiple options for the customer - each offering different solutions and/or products - and generate accurate quotes containing detailed descriptions and images that illustrate what has been selected. Achieve your best price while delivering what your customers want, every time.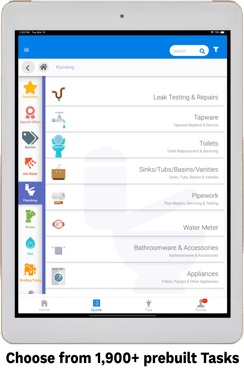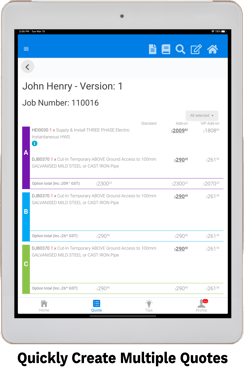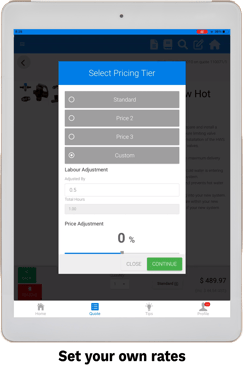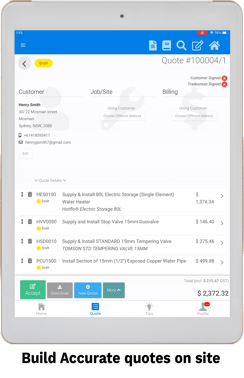 Sometimes Pre-builds can be frustrating to use and time consuming to maintain. With FlatRateNOW you are able to choose from over 1,900 prebuilt Tasks, which are fully customisable on the go. Our catalogue of tasks is updated regularly and enables you to publish product images and detailed descriptions on every quote images.
Our Scratchpad tool allows you to present your quote with multiple options, which enables your customer to choose the best solution and the best price for them. Present multiple quotes with product images for each job. Improve your customers' experience, by allowing them to understand what they are buying, and why.
Apply prices that are specific to your customer segments, whether they be Domestic, Strata, Pensioners, Regulars, or Commercial etc.
Reduce pricing questions by providing autonomy - allowing your technicians limited control over pricing by setting 'maximum adjustment limits'.
Use the 'Labour Adjustment feature' to fine-tune the allocated time on each quote to better suit the specific job.
Finally, deliver an accurate quote with details description of the job, discussions, images and options that lead to Increase in Sales and Average Job Value for your trades business.



FlatRateNOW CEO, Marcel Donnelly says, "We are excited to bring our visual quoting experience that many tradies love to those that use simPRO. The integration provides a seamless experience, removing any need for double handling information between the two systems. This allows the tradies more time to focus on their customer which will inturn boost sales and provide growth for the trade business."
Together FlatRateNOW & simPRO will improve your teams' on-site sales potential and increase customer satisfaction.
Our dedicated team is here to support and assist simPRO customers accelerate sales growth and raise average sales value while offering a better sales experience to your staff and exceptional service to your customers.
Grab a free 15 minute chat today to find out more about how our integration can boost your sales!