Creating a pricebook requires time however maintaining the pricebook requires a commitment.
We invest 100s of hours each month improving our pricebook by adding new tasks, removing or updating existing tasks, adding new products, updating or removing old products and updating price files.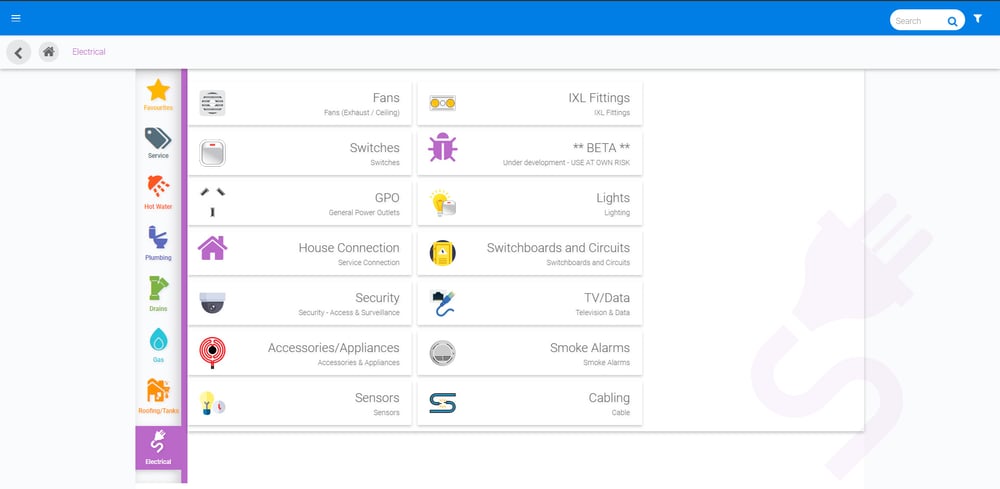 The FlatRateNOW in-app pricebook is an important feature for our community. By leveraging our in-app pricebook:
You get access to thousands of

updated

catalogue

items and prices.

Y

ou save time creating

and turning around

quotes

in a fraction of time.

Increase the consistency

and accuracy

of your

quotes.

Enable any of your

tradies

or team

to create

quotes

Increase your chance

s

of winning the job

.
The process of manually typing out quote after quote is a needless cost and time overhead. It's exhausting, mind-numbing and unless you win the quote, it can be demotivating.
Selecting from the pricebook and adding the tasks to your quote can reduce the burden on your tradies. By saving time and energy, your tradies can move from inspecting the job, to quoting the job and to presenting their quote much faster and better
How are

pricebooks

created?
Pricebooks offer the user access to the average time it took the average tradesperson to complete the average job - not just once, twice or three times, but hundreds, if not thousands of times.
To create a powerful pricebook, you need to capture enough information about the jobs you complete on as many occasions as possible. The more times you complete the job, the greater your accuracy will become for the pricebook.
It's not about trying to capture the fastest time or the slowest time but about capturing the average.
To begin preparing for the pricebook, you will need to capture this information
Heading

Description

Image

List of materials
Hours invested on the job (travel, selling, admin, labour, call back, etc)
Once you have that information, you begin to compile it together so you can identify what the averages are for:
Materials/Products

Labour Hours to allocate
Below, I will show you a basic task that we have in FlatRateNOW, used by plumbers almost daily.
Heading:
In Wall Recessed Tap or Hob Mounted Tap Washer Service - SET
Description:

Isolate water to house or fixture. Remove tap body, clean spindle, re seat brass bodies and flush water lines. Replace tap valve, grease

stem

and provide new O ring and

fibre

gasket to body. Re assemble tap, reinstate water supply and test on completion.

Image:
We used an image of a tap
Materials for the job:

TAP VALVE BRASS/EPDM BLK 1/2"

15MM

                                         

PERFORMA DELAWARE VALVE (1/2") 15MM   

PERFORMA O-RINGS SZ 8.5                                     

HYDROSEAL THREAD LUBRICANT

Products for the job:
None - you're not selling a product in this job
Time allocated:
1 hour and 15 minutes
Here is how it looks in our app: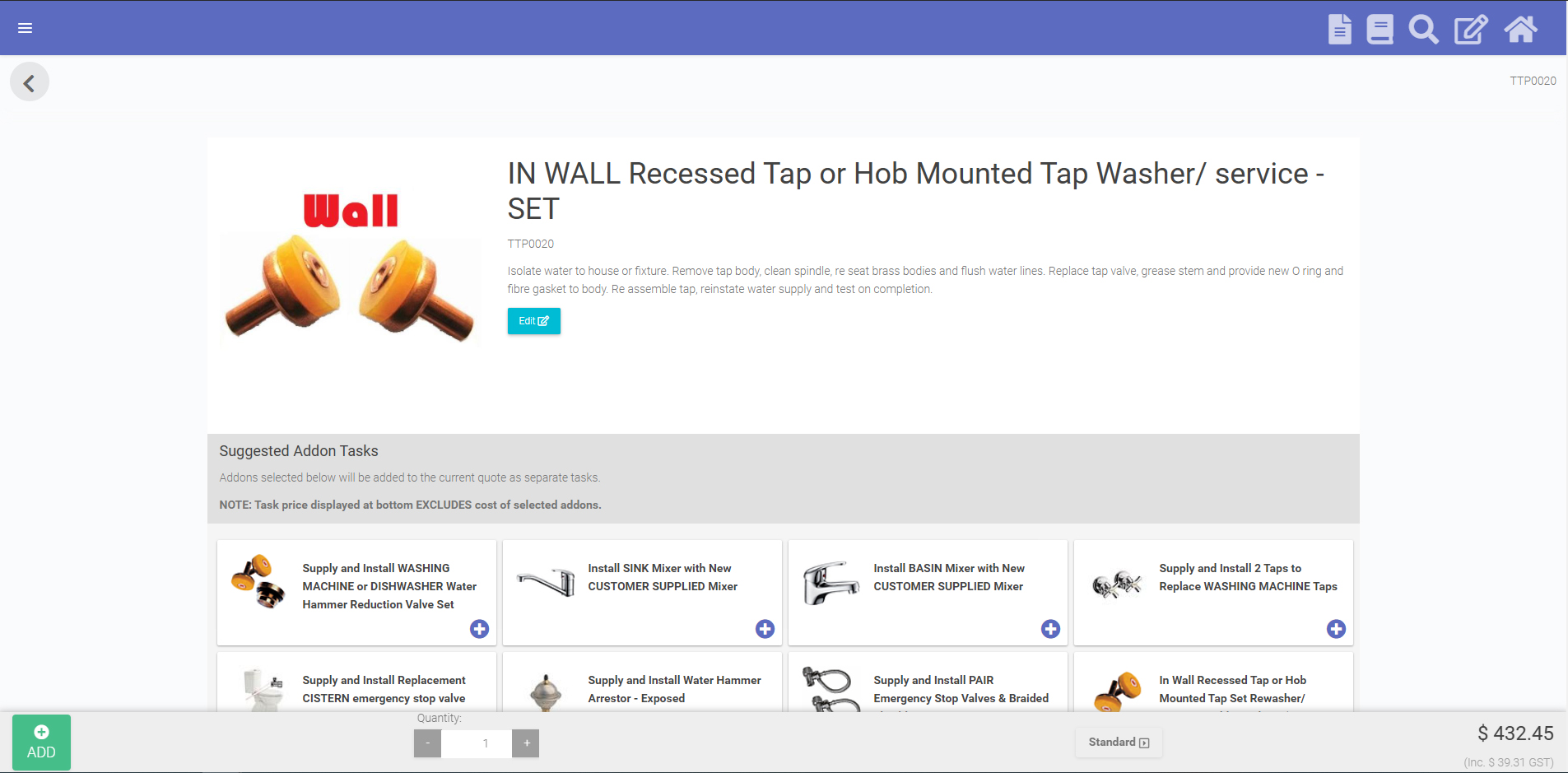 Each time a tradesperson uses this pre-written task, you've saved your tradie the hassle of writing that nice long description, calculate how much time it'll take to complete the job and billing for the materials they would usually use on a tap service.
What are common pitfalls for businesses trying to build their own

pricebook

?
The most common pitfall and the most common comment we receive from tradies about our pre-built tasks is "I can do the job faster than what you have set as the allowed time".
You must remember that a powerful pricebook captures the average time it took for many tradies. This is because the average time includes:
Unforeseen circumstances that arise that couldn't be on charged to clients

Call back

time

for when the work wasn't completed satisfactorily

Tradespeople that are slower
Tradespeople that are faster
If you are creating a pricebook and you allocate time based on how long it'll take you, than you are potentially short-changing yourself if your employee is not as fast as you or encounters an issue while completing the job.
Another Critical Pitfall
The second most common pitfall is critical because it can lead to reduced profits and serious cashflow problems, is that businesses don't maintain their pricebooks.
You will invest days, if not weeks, creating your own pricebook or even purchasing one from another business that may require investing weeks customising it to suit your own business to then not review the pricing again for months, if not years!
If you do not maintain your pricebook, you are at risk of undercharging your client for the job because:
Inflation doesn't wait for

you

Suppler price files won't stop just for

you

Overheads and business expenses don't freeze miraculously for

you
A pricebook that is not maintained each month, is a pricebook losing you money.
So if you are interested in creating your own pricebook, please take very seriously the job of maintaining. The last thing we want and the last thing you want is to be undercharging your clients and working your ass off every day to not see a cent of profit!
If you don't have a pricebook or have a pricebook that you don't have the energy or time to maintain anymore - we are here for you. You get access to over 1,800 pre-built tasks, all customisable to suit your business and we maintain our pricebook all the time!