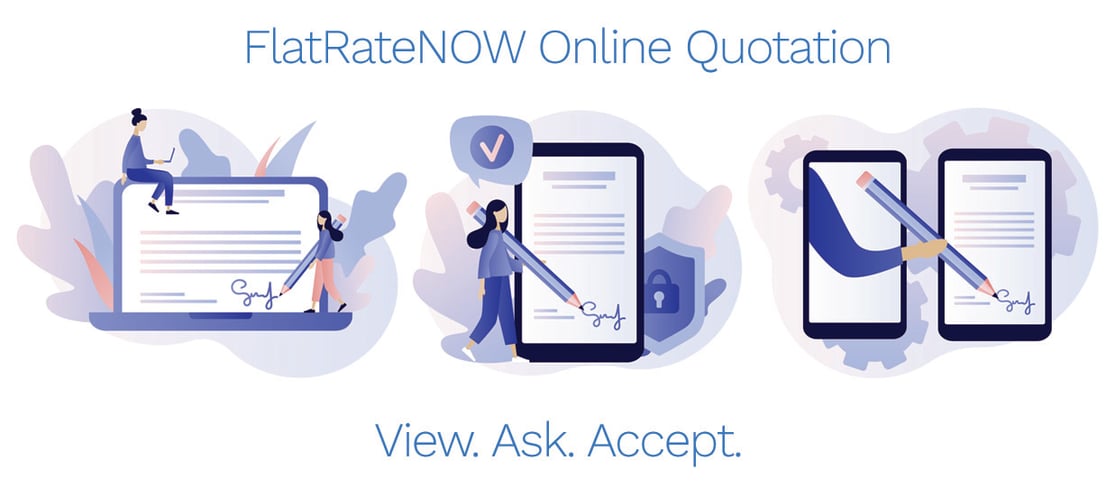 Signing a quotation not only provides a sense of authority but is an important part of approving the sale. However, what happens when your customer refuses to sign on your device?
Your customer may be nervous about signing on your device because of the on-going COVID-19 situation or they may want to speak with their partner before agreeing to any work. By providing the option to accept the quotation remotely, opens your business to a world of possibilities!
Previously, quotes generated from FlatRateNOW would only be PDF. Easy to read and professional but unless you were with your customer, you couldn't receive their signature. The latest feature released by FlatRateNOW elevates your quotations to new heights!
All quotations generated from FlatRateNOW will give your customers the ability to:
View their quotation online at any time, anywhere, on any device
Send enquiries directly to your office through a newly developed 'Quote Chatbox'
Give their stamp of approval by signing online
Reject your offer and explain why
But what about for your business? What benefits do you get?
With every quotation generated from FlatRateNOW, you enjoy the benefit of:
Being notified when your customer opens and views the quotation
receiving questions after hours.
Having the option for your customers to sign in the comfort of their own property
How does the new Online Quote feature work?
View quotation online
Your quotations will now be held securely online. The quotation is only accessible to those that have the link and can be easily accessed through the email.
Quotation Chatbox
How many times have you been sitting at the dining table after dinner and you have a question you need to ask a supplier. As it is too late to call the business, you tell yourself you'll call them in the morning however when morning comes, you've forgotten.
With the new Quotation Chatbox, your customers will be able to ask questions at any time of the day/night. All of these messages are viewed through FlatRateNOW Office.
Accept/Reject Quotation
Your customer will be able to Accept or Reject your quotation from the online form. As usual, the quotation will require a signature to be approved and a reason to be rejected.
Do I need to activate this feature?
This feature is automatically enabled and will not replace the standard PDF quotation that is generated with each email. Accompanying the PDF version of your quotation, within the body of the email will be a new button that is labelled 'View Quote'.
With a quick click of the button, your customer will have access to their quotation in their browser.