We are excited to announce that ServiceM8 users can now easily integrate with FlatRateNOW to maximise their sales potential by utilising our quoting features, option builder and in-app price book. Plus, a whole range of other features dedicated to increasing your chance of winning the job and tracking your profits!
Good integrations save time and increase productivity
The ServiceM8/FlatRateNOW integration focuses on being minimum touch. By automatically downloading jobs from ServiceM8 to FlatRateNOW and uploading all of the quote information back into ServiceM8 once the quote is accepted, your tradespeople can shift their focus towards your hard earned client and focus less on what they're writing on the quote.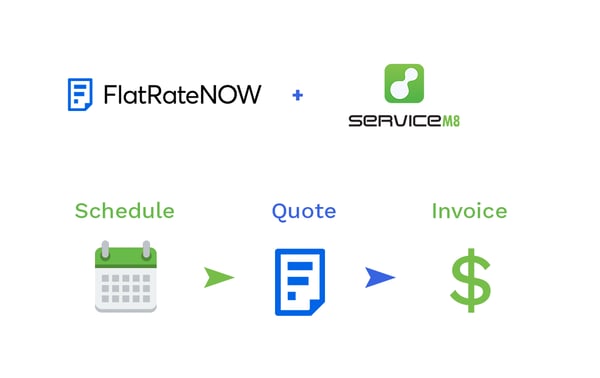 The integration blends into your existing process however with a slight change:
Schedule in ServiceM8
Quote in FlatRateNOW
Invoice & Collect payment in ServiceM8
How does the integration work?
Once you have successfully integrated your ServiceM8 account with FlatRateNOW, the integration will work as follows:
Schedule the job in ServiceM8 and it will automatically download into FlatRateNOW
The tradie will develop the quote(s) or options with the in-app price book in FlatRateNOW and present the quote/options to your client
When your client accepts the quotation, FlatRateNOW uploads the information directly into ServiceM8 within the 'Quotes & Invoices' section of the job.
Invoice & collect payment as usual in ServiceM8
Check out the integration in action
You must schedule the job in ServiceM8!
When you enable the ServiceM8 integration with FlatRateNOW, the Customer & Job must be created in ServiceM8. The following features on FlatRateNOW are disabled by the ServiceM8 integration:
Customer Creation
Job Creation
Invoicing Feature
Accounting Software Feature
The integration focuses on providing you with more quoting tools, so there is no need to change the other processes!