With lockdowns becoming more frequent across Australia in recent times, we believe it is important to know what features you have at your disposal that may help to reduce the burden your business is facing and allow you to continue servicing your clients.
Here is a short list of features we believe may be able to help:
Online Quote View
Instead of only sending your client a PDF, all quotes sent from FlatRateNOW include an 'Online Quote View'.
By clicking the 'View Quote' button within the email, you client can:

Ask questions directly to you via the Quote Chatbox
Accept your quote by signing on their own device
Reject your quote with an explanation
See this feature in action:
The Online Quote View is an automatic inclusion and you do not need to enable it in your settings. You only need to send the quote to your client for them to receive the option to open your quotes as the 'Online Quote' version.
Product Images
You can either include or exclude a photo of the product.
This photo will appear on the Quote PDF and the Online Quote View
See this feature in action:
The 'Product Images on Quote' is an automatic inclusion. You can modify your settings to either make it default as 'included' or 'excluded' from your quotes however on the Task screen you can always select or deselect to include.
To change your default settings, follow this guide : How to change default product image value
'Copy' Feature
Copying quotes will allow you to quickly respond to change requests by your client
Don't wait for your customer to ask for alternative products, use the copy feature and send your client 2 or 3 quotes with different products
See this feature in action:
This feature is automatically included in your quote screen. Make the most of it and provide varying solutions to your client quickly and easily.
Itemise Quote & Display Savings
You can Itemise your quote which excludes the individual price of the separate tasks.
If you are offering and savings or discounts, you can display them in the quote as a clear dollar value.
You can select/deselect 'Itemise Quote' or 'Display savings' before you accept, send or download a quote.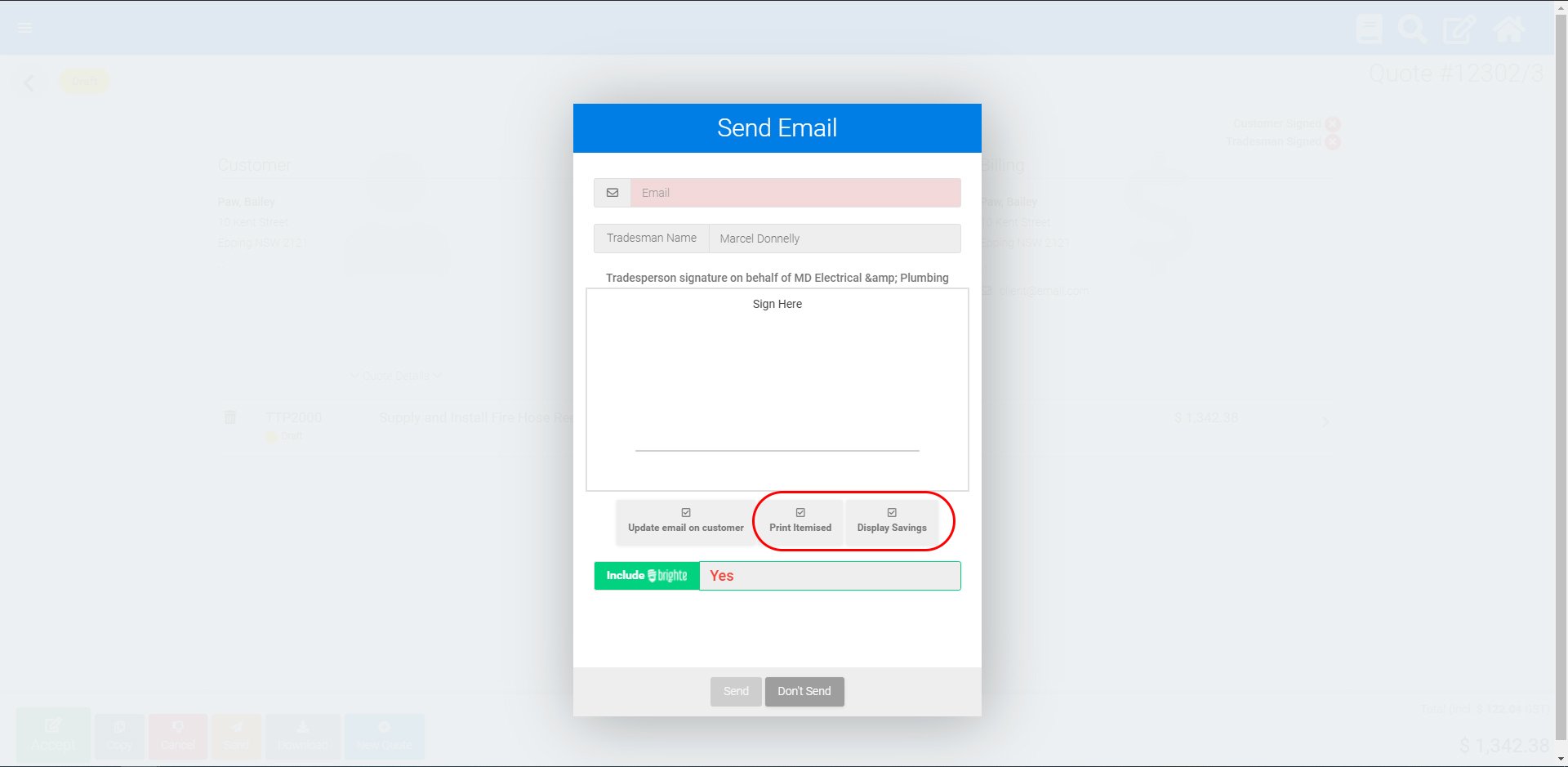 This feature can be enabled or disabled in your settings. If you do not have 'Itemise Quote' or 'Display Savings' enabled, please follow these guides:
Customer Notes
Utilise the Customer Notes field to inform your client of what they provided you as information.
Your client might forget what they said to you over the phone, so capturing information in the notes field will help to remind them of what they've asked from you in relation to the quote.
See this feature in action:
This feature is automatically enabled on your quote screen. You simply enter the text into the 'Customer Notes' field and it will automatically appear on the 'Quote PDF' and the 'Online Quote View'.