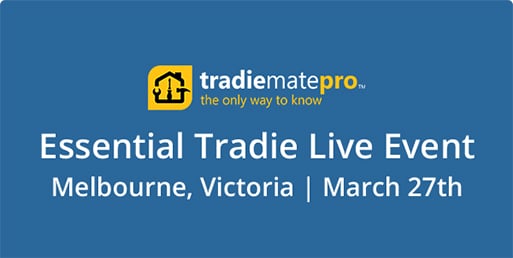 Our friends over at Tradiematepro are putting on one of their biggest, most ambitious, and best events yet. They're here to bring a brand new selection of key speakers to help you transform and skyrocket your tradie business in 2020.
Learn key business strategies so that you can finally reach those goals you set all those years ago.
Tradiematepro don't want your mates missing out so we've been given a little treat for you. This invitation also includes a special gift - bring a mate for FREE. Once you've read who are the key speakers below, simply click on the button to claim your mates free ticket!
The Key Speakers:
Dani Wales
Former contestant on The Block, founder of The Red Door Project, an interior design & build company, and now the Co-host of Healthy Homes TV Australia. Dani will be on the panel for The Essential Tradie event and she'll be there to teach you:
✔️ How to establish your personal brand.
✔️ How you can use that to grow your business.
✔️ How her life has transformed since building her personal brand and how you can do the same.
Danny Sexton
Sexton joined St Kilda Football Club as a development coach in 2006. In 2015 he became the Director of Coaching. Danny is a tried and tested leader in the sporting world. And he's ready to teach you:
✔️ How to become a more effective leader and how to be led.
✔️ How to empower your team.
✔️ What it takes to develop a premiership level team.
✔️ The importance of having mentors and advisers.
The Tradiematepro Experts
Meet and network with Matthew Jones from Cube Consulting, Peter Cox from Leadership Dynamics, Matt Jones from Tradie Web Guys, Clinton Cowin from TradiePad, Ed and Rebecca Plant from Institute for Couples in Business, and the entire Tradiematepro team. Absorb over one hundred years of combined industry knowledge in all areas of business including:
✔️ Digital marketing, so you can generate more leads for your business.
✔️ Technology, to improve your efficiency.
✔️ Financials, grow your cash flow.
✔️ Strategy, so you can build your battle plan.
✔️ Communication, better communicate with your team.
✔️ Leadership, lead your team to new and greater heights.