We know that it's been tough out there, with constant increases to interest rates, volatile material prices, and rising costs of business goods continuing into 2023. As a business owner, you've probably felt the strain of trying to keep up with these changes while still providing top-notch service to your customers.
In this blog, we will discuss how FlatRateNOW can assist you in defying these trends and will help you provide top-notch service to your customers.
The key stats of 2023 so far
It's been a slow start to 2023 for tradies across Australia, but why is this the case?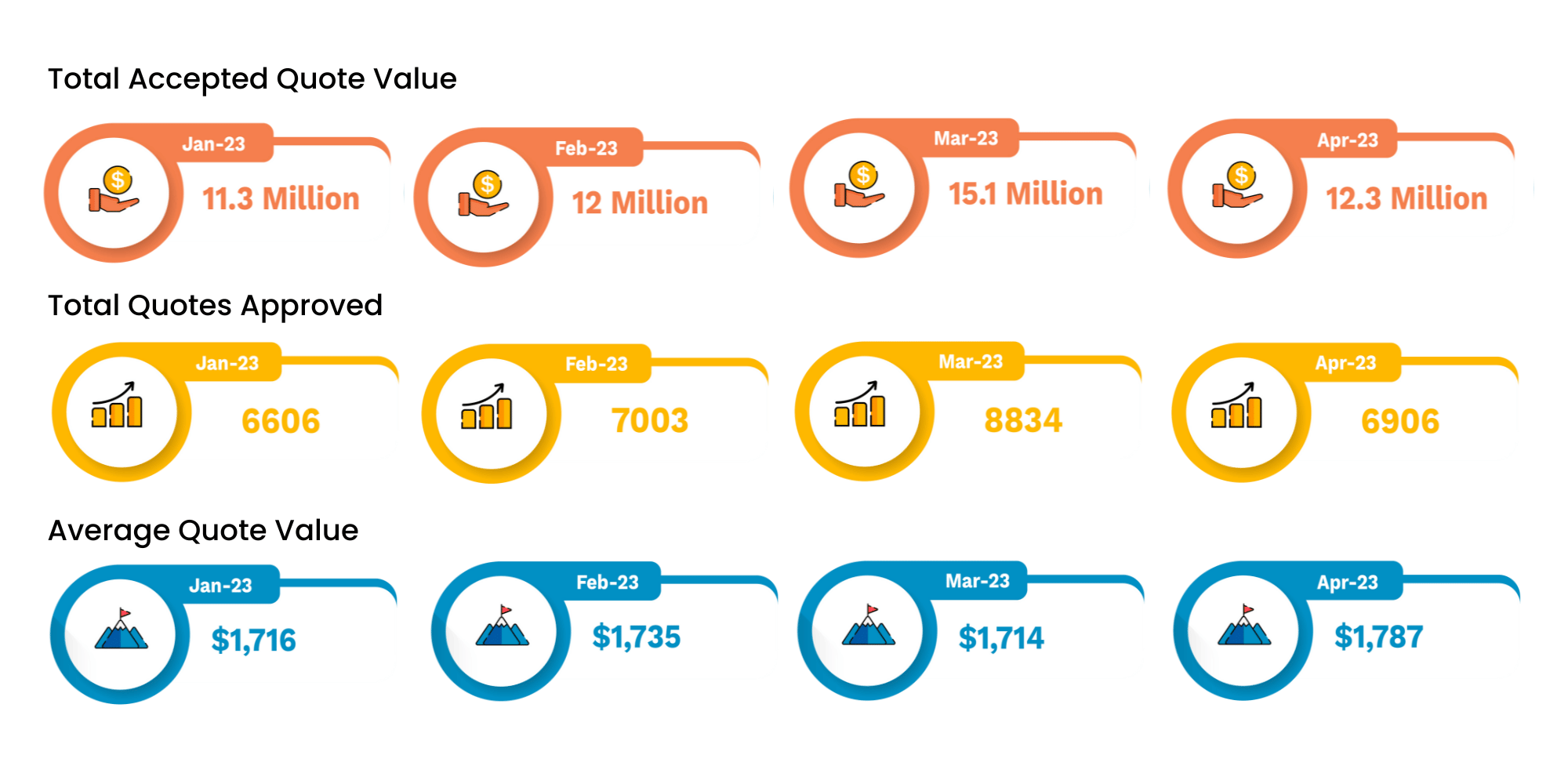 January blues
It's no secret that January can be a tough month for businesses, especially tradies. After the whirlwind of Christmas, New Year's celebrations, and holidays, many people are left feeling financially drained. As a result, businesses often find themselves in a slow period, struggling to find customers who are ready to spend money on their property.
We know how frustrating this can be for business owners who have worked hard to build their brand and reputation. It can feel disheartening to see the flow of customers slow down, despite your best efforts to provide quality service.
Declining quote value
It's disheartening to see the decline in the Average Quote Value for businesses across Australia. After reaching a national high of $1,800 in 2022, the value has gradually been decreasing and hit a low point in March at $1,714. This downward trend can make it challenging for businesses to maintain their profitability, especially when combined with the ever-increasing costs of materials and other business expenses.
We understand that this trend can be frustrating, and it's natural to wonder why it's happening. It's possible that negative customer sentiment is contributing to this decline. With so many options available, customers may be becoming more cautious about their spending, choosing to opt for a service or minor repair instead of a complete replacement.
Decreasing quotes
It's always challenging when there are fluctuations in the numbers that matter most to your business. In April 2023, businesses experienced a mixed bag of results. On the one hand, there was some good news in the form of an increase in the average value of jobs. However, this was offset by a decrease in the total number of approved quotes when compared to the previous month of March.
As a business owner, it's natural to feel frustrated when you see a decrease in the number of approved quotes. After all, it's a vital metric that directly impacts your bottom line.
Here's how you buck the trend
The features that FlatRateNOW has developed and continues to develop focus on helping you to deliver a better quoting experience for both you and your customers. One feature in particular that helps to improve your Average Job Value is our Scratchpad (also known as the Option Sheet).
The Scratchpad is a basic tool - it doesn't include many bells and whistles but that's because this feature needs to remain simple. Unlike building a standard quote via our 'Quote View', the Scratchpad allows you to present up to 6 options on the same screen. This is how our most successful businesses are bucking the trend of lower Average Job Values, by showing their customers different options at different price points at the same time.
Our software provides transparency to your pricing structure, giving your customers the confidence they need to make informed decisions. This level of trust is invaluable, especially during a time when customers are becoming increasingly wary of where their money is going.
What's next?
In the coming weeks, we are going to be providing you with the knowledge on how our successful businesses are using FlatRateNOW to help buck the trends, remain profitable and keep their customers happy and coming back for more.